When doing work, there's only two words that come to mind: Speed and Efficiency. Well, what if we told you that we can help incorporate those attributes into your daily work? We at Matrix Connexion would like to weigh you in on some sweet tricks you may or may not have noticed to help you work smarter and faster using the G Suite platform. With so much going on in 2020, there really isn't any time to waste when it comes to working from home or the office. What are we waiting for? Let's get into it!
1. Convert Images into Texts
OCR. Ever heard of it? No it's not a new slang teens on Tik Tok use nowadays. It stands for Optical Character Recognition. Huh? In simpler terms it means you no longer have to retype texts from your images all over again into Google Docs or Word. Instead, you can use Google Drive's OCR to help convert any texts from your images or pdf files into editable formats in Google Docs.

This can surely eliminate the hassle of manually copy-pasting any letters or documents you want written as editable versions. Now with just a few clicks you can save so much time and energy. Disclaimer: no guarantee that the texts will be 100% accurate as in your images but they give a pretty close estimate of what you intended.
2. Sidekick Side panel
Ever wondered what the side panel of your window was for? Answer: to make your life easier of course! Regular users of Google Meet to host meetings would know that invites to other participants are sent through email. If you've received one of those invitations you must have had to check your schedule beforehand to see whether it clashes with your schedule.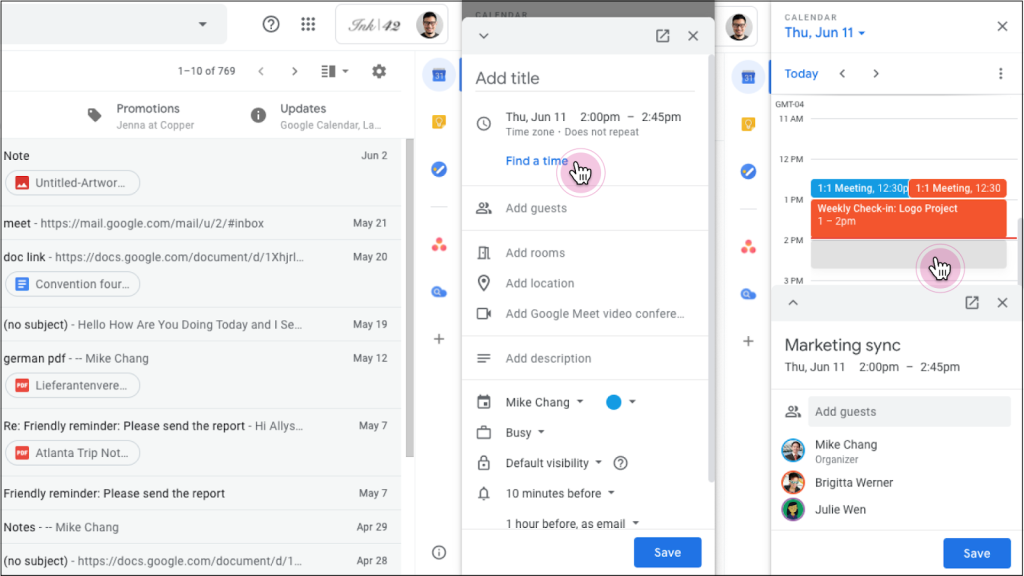 Here's where the side panel comes into play: no more having to open a new tab to Calendar or check your schedule manually from your PA. Just open the side panel which has the Calendar icon and click on it to quickly review your schedule! Even make notes with Google Keep if there is certain important information you need to take down.
3. Search Swiftly with Google Cloud Search
When completing assignments or preparing presentations, there is not a sliver of doubt that the biggest hassle is looking for all the relevant content and information that is scattered all over the place. Stress no further as Google Cloud Search eliminates the time-consuming process of looking for all the nitty gritty details required to prepare your documents and slides.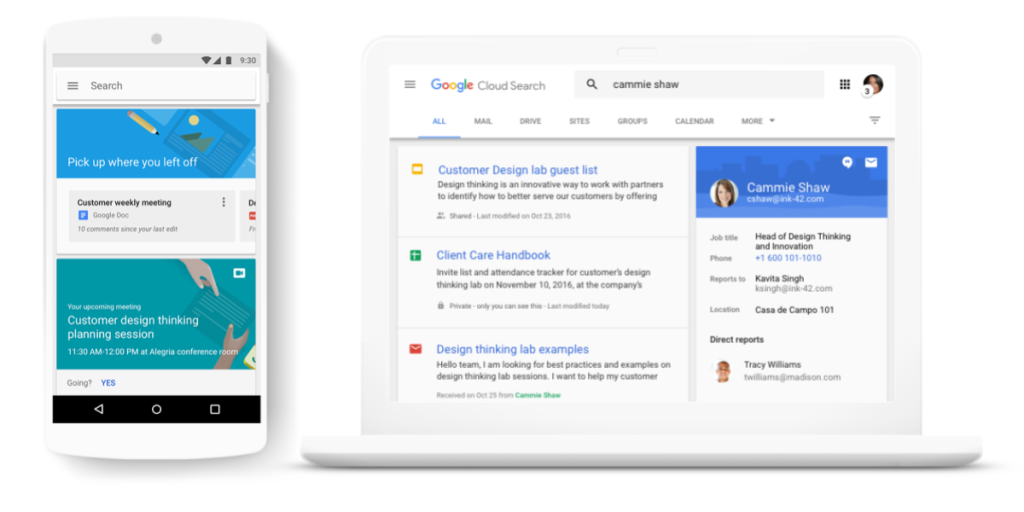 Say you're looking to prepare a report on "Marketing Strategy for May 2020", just type in the keyword in the search bar in Google Cloud Search and all the emails, documents, notes and spreadsheets related to that keyword will be available at your fingertips.
4. Drag and Drop is The New Copy Paste
Life has never been easier since the invention of the "copy-paste" function. But guess what? The "drag and drop" function in G Suite makes life even easier. Maybe in previous meetings you may have been taking certain notes in Keep that you may want to use to prepare your documents. Now, using the side panel AGAIN, you can just drag a certain note to paste it into your document. Say bye-bye to "Control + C" because drag and drop is here to stay!
5. Say Bye-Bye to Memorising Formulae!
Not all of us were born with hard drive-like memory. Therefore, memorising all those pesky formulae in sheets is no easy task. That's why you can now search your desired formula using the "Explore" function by typing in what task you would like to achieve. Then, Google will provide you with the relevant formula which you can just copy and paste. To those less mathematically inclined, use the "Explore" function to also help give the answers to your most pressing questions like, "What is the average for March?" or "How many male students failed their Mathematics test in June?".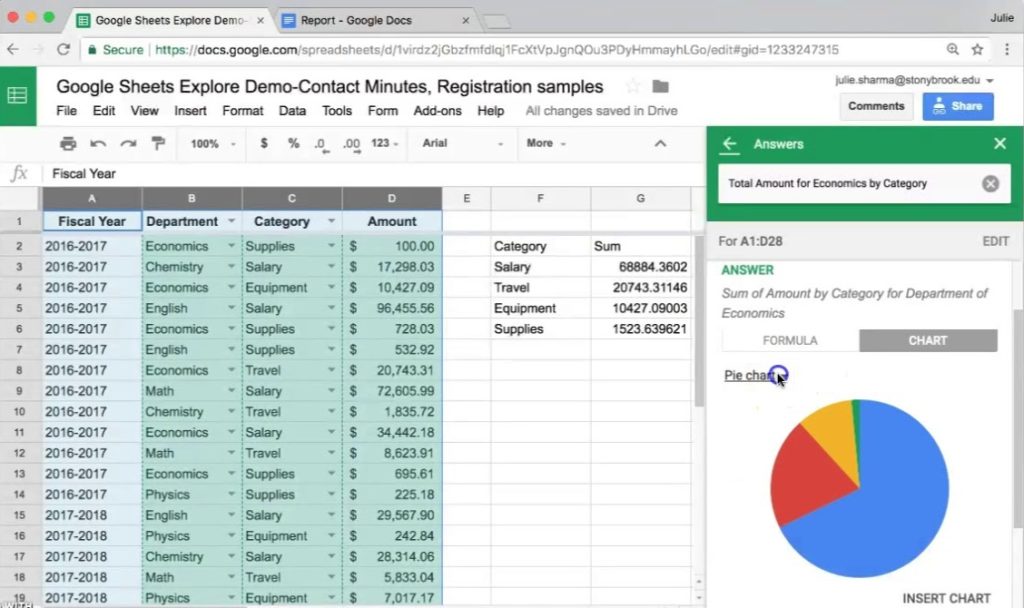 6. Yes, It's Possible to Work Offline
Many of us would consider the Internet to be the greatest invention ever created by man. However, we all know the hysterical feeling when there isn't any Internet connection around, especially when we're travelling. Freak out no more, because with G Suite, you can edit your documents or prepare presentations offline. All your work will be saved and synced once you get back online. No more unproductive flights!
7. Make Q&A Sessions Less Messy
With virtual meetings becoming the new norm for businesses and organizations, trying to coordinate everyone may be a bit of a hassle. Especially when it comes to getting feedback and making sure everyone is on the same page without causing a ruckus in the process. That's why, Google has come up with a more organised solution to help make asking questions easier.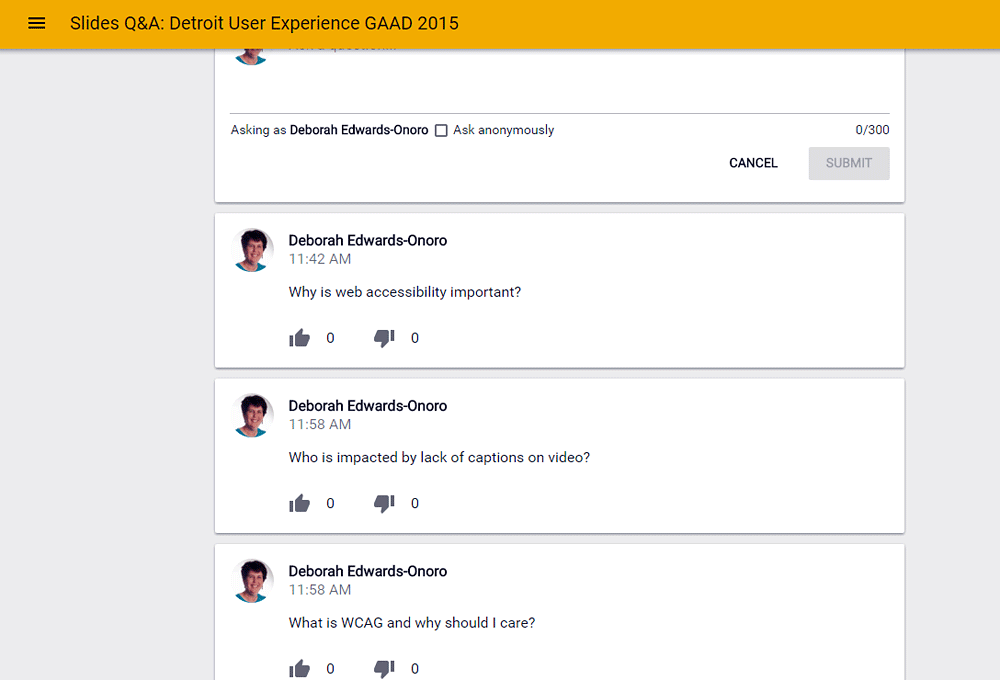 Simply click the Q&A function once you're in presentation mode, there'll be a link for you to share with your audience which gives them the freedom to type in their questions which you can answer and get back to at the end of the presentation. See? Plenty of time to present and even more time to engage with your audience.
Well, that's all from us on a few actionable tips you can practice when using G Suite. Hopefully, with these little tricks up your sleeve, you can save time, energy and money by increasing the speed and efficiency of how we do work. If you enjoyed these tips do show some love by sharing this article around so we can write up more if you're interested. If you haven't subscribed to a G Suite account yourself and are already hooked on its capabilities, do contact our team at https://www.matrixc.com/contact-us. Can't wait to see all you folks being more productive from now on!
Read More on Google Workspace