Everything you need to get your work done in one place
Google Workspace (formerly G Suite) is the future suite at work
Tell Me More
Makes your online meetings easier with Google Meet Hardware
Google Calendar integration, device management,
More Info
The smart and secure device to pair with your Google Workspace
Running on Chrome OS, made by Google
Tell Me More
Create Your Own Productive Working Environment
Everything At your fingertips
Spend less time managing your Google Workspace account and have more time to actually work
Work smarter with Google AI
Let Smart Chip helps you with addressing what is important and let you work smarter
Decide for yourself where you want to work and which device is best for you, without losing track of your work
All you need in just one click
The suite that comprises of all the tools you need to work and collaborate with your team
The mighty all-in-one suite
Power of Google Workspace (formerly G Suite) all at your fingertips
A Secured Business email for your organization
Enhance your business meeting like no other
Powerful chat tools to connect and collaborate
Manage schedules seamlessly with your team
Store and share your files from everywhere you are
Easily create documents without the need of any extensions
Create insightful data to make the right business decision
Have everyone onboard to create great presentation together
Personalized survey and data capturing tool with no extra cost
Create professional and engaging internet sites for your team
Productive environment to keep everyone at the same goal
Have all your notes, reminder and task recorded in one safe space
Low-code platform to build business solution easily
Powerful tools to help you find what you need across the suite
Visualize and collaborate during your brainstorming session
Get on board with Google Workspace (formerly G Suite)​
Hop onboard easily with Google Workspace (formerly G Suite) and let our team of specialists guide you through the process. Get professional consultation from our specialists and understand deeper on how we can cater to your organization's need in order to strive higher. 
Matrix Connexion offers services like DNS configuration, migration, training and additional add-on product consulation to help you to achieve more.
Talk to our specialist today!
Request for free consultation
Google Workspace (formerly G Suite) Pricing Table
Google Workspace (G Suite)

Add to cart
Add to cart
Add to cart

Google Workspace Business Starter

Google Workspace Business Standard

Google Workspace Business Plus

RM

159.00

RM

381.00

RM

954.00

Price is 6% DST included
List price is RM318
Custom and secure business email
100 participant video meetings
30 GB cloud storage per user
Security and management controls

Price is 6% DST included
List price is RM 636
Custom and secure business email
150 participant video meetings + recording
2 TB cloud storage per user
Security and management controls

Custom and secure business email + eDiscovery, retention
500 participant video meetings + recording, attendance tracking
5 TB cloud storage per user
Enhanced security and management controls, including Vault and advanced endpoint management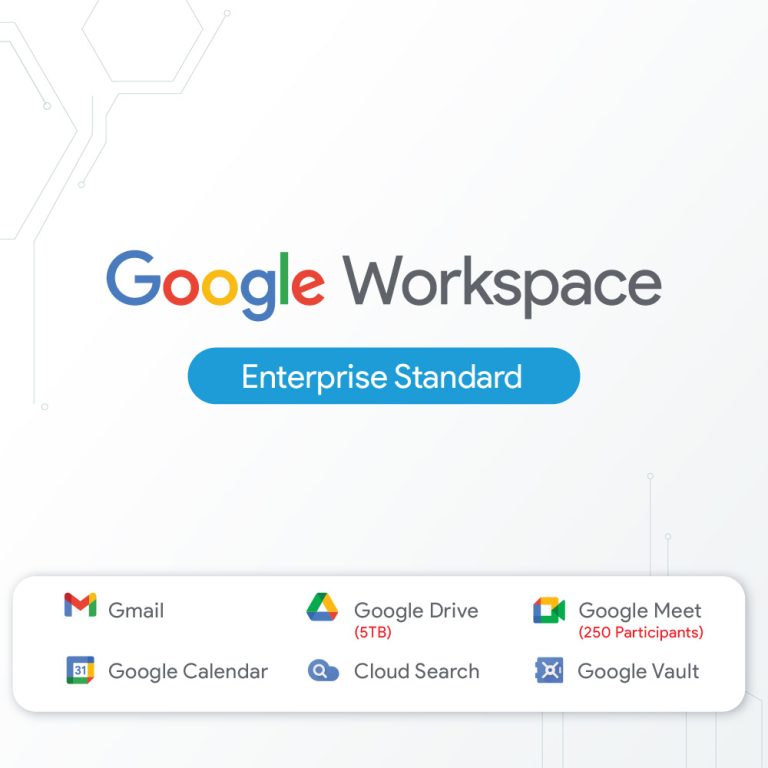 Google Workspace Enterprise Editions
Price from RM1,000
Custom and secure business email + eDiscovery, retention, S/MIME encryption
250 participant video meetings + recording, attendance tracking, noise cancellation, in-domain live streaming
As much storage as you need
Advanced security, management and compliance controls, including Vault, DLP, data regions and enterprise endpoint management