For those who managed to get out of the house during the MCO period (no, we're not encouraging it), it is inevitable that you have realized that going out now is not the same as how we used to go out anymore. Even if you're just out to tapau from your favourite mamak stall, you'll now have to adhere to the new normal: that is to register — have your temperature taken — and sanitize your hands before you could step into the store.
The Ministry of International Trade and Industry (MITI), as of 16 April, has released its amended list of essential services that are allowed to operate during the MCO period, along with the standard operating procedures (SOP) to be obeyed if they were to reopen.
While most of us still have to bear with our out-of-hand, unruly hair as the saloons remain closed, other services such as retail industries, automotive, construction, manufacturing, professional, technical, and related industries are allowed to operate during this time.
However, the allowance to operate must adhere to the set SOPs for their respective sectors as provided by the Ministry of Health and other authoritative agencies. The ministry has made it mandatory for companies to provide a list recording the employees who are on duties and their whereabouts during the MCO period as workers are only limited to the journey to and fro their work premises. Every company is also obliged to take the temperature of every incoming personnel as well as to check for symptoms such as coughing, sore throat, or any respiratory difficulty. Such information is required to be stored by the company for a period of at least 3 months for future reference.
Since the new SOPs are imperative for national safety against COVID-19, it is important to have a seamless process where such information can be taken effectively. For companies who want a straightforward flow without additional cost, using the existing tools of G Suite can help to achieve it.
So, how does the new normal looks like?
#1 Registration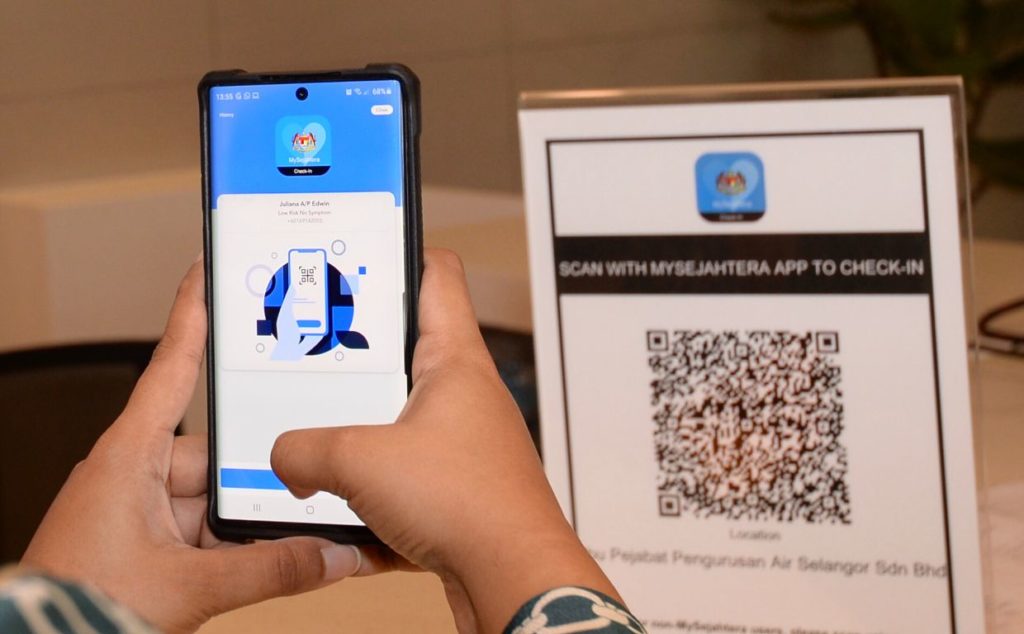 According to MOH, personal information and temperature readings of guests and employees should be recorded and stored prior to entering the store – this is to ensure that they are not virus-carriers and that they are easy to be traced if they were to involve in any cluster.
For this, Google Forms has been used widely by many retail outlets and restaurants to register walk-in customers at the entrance. It is an excellent free option and extremely easy to use as follows:
1.Go to docs.google.com/forms, then choose a blank form or template from your template gallery.
2. You can include questions in the form of short answers, multiple-choice, dropdown – any form fit for your inquiry.
3. Within the form itself, you can adjust almost anything, including title, description, and sections. You can also add images or videos.
4. When you're ready to use your Google Forms, simply copy the link to be shared. However, for our social distancing purposes, you can generate a QR code pointing to the Google Form link so that your guest can then scan the code and fill the form at ease.
#2 Safekeeping
All the information gathered is extremely useful for contact tracing analysis. Therefore, to make sense of all the data you have collected it is wise to export the information to Google Sheets. Google Sheets is basically a spreadsheet app on steroids — meaning it does so much more in terms of organizing, visualizing, and calculating data. Let's dive in right now:
1. Go to docs.google.com/sheets, then create a spreadsheet from scratch. Alternatively, responses received on Google Forms can be automatically exported to Google Sheets to an existing spreadsheet – which is more convenient in our context.
2.Data collected can be formatted for easy viewing.
3. Processing data is also made easy as Google Sheets allows for calculations and filtration of data with formulas to be done — so let's assume your company has several branches, you can filter the responses to only show guests information from a certain store or location.
4. All the information stored is personal data hence it shall be dealt with high confidentiality. Every Google product including Sheets has comprehensive security which allows access to other parties only if you make them as collaborators. Therefore, you don't have to worry about such information being leaked and face any possible legal consequences.
#3 Implementing Effective SOP
To carry out a proper flow of SOP, it is crucial for every employee to know what the full process is and adhere strictly to the steps. For this reason, employers can set out the full procedure or a proper flow chart for employees to understand better. This can be easily done with effective collaboration tools like Google Docs as follows:
1. A new document can be created on docs.google.com where you can choose from a wide variety of templates and pre-made documents.
2. Google Docs brings your documents to life with smart editing and styling tools to help you easily format text and paragraphs. A hundred of fonts, add links, images and drawings are also available for you to choose from.
3. Once you have your SOP comprehensively set out, you can share the files and folders with your employees and choose whether they can view, edit, or comment on them. For employees who have questions on the procedures, they can use the "comment" functions to double confirm or to assign tasks to the relevant departments.
Until recently COVID-19 has shown signs of a flattening of the curve. The country and us, as its residents, should not let our guard down. Self-discipline and a high level of hygiene are still needed and the SOPs shall be strictly enforced from time to time. If not careful, a possible third wave would result in a backlash on the country's national economy. What all of us can do for now is to welcome the government's rules and regulations diligently and here, Google provides us an expense-free solution to make them happen.
Let us take the responsibility to keep our country safe and secure by contributing to what we can.
#togetherwefight #matrixcares
Meanwhile, do check our other write-up on ours: Is Work From Home here to stay? if you're interested!