The real question here: is working from home here to stay or is it just a temporary solution to COVID-19?
While the pandemic has shuttered human lifestyles, retail shops, and working offices worldwide, it has been a debate on whether WFH will be the new normal, or it's just a temporary measure.
Following the climate, most of the companies are agile enough to adapt to the sudden shift to work remotely. For many people, the change to work from home has allowed them to save time from the commute, have more family time, and be more productive. Such flexibility also benefits companies as they can potentially reduce overhead by downsizing office space or utilizing virtual offices.
However for some who are new to this, and they do not know where to start.
How is working remotely like?
As telecommuting is not widely practiced in Malaysia, this might be the very first time for most people to work remotely. Having talked to a lot of friends and coworkers, working from home is actually not as intimidating as some professionals might have imagined. We actually see an inclination towards working remotely as the companies actually embraced the culture.
Many employers were initially skeptical about working remotely as they fear employees would take advantage of being at home and neglect work if they are out of sight and unattended. In fact, employees are contributing more than ever as they now have ample time to get tasks done without having to commute to work and meetings, which makes them more responsive and productive. Working from home enables employees to finish their job on time without having to work longer hours, allowing them to achieve a better work-life balance – which in turn elevates their overall working performance.
Tackling the misconceptions, it turns out that the key element of working remotely is, essentially, to communicate better with our coworkers. Managers must learn an effective way to keep in touch as if their teams were working just a door away. There are a lot of times where things can be done, even if someone is not physically present and it is possible. We suggest that leaders can create a positive remote culture and work productivity and loyal workers will be here to stay.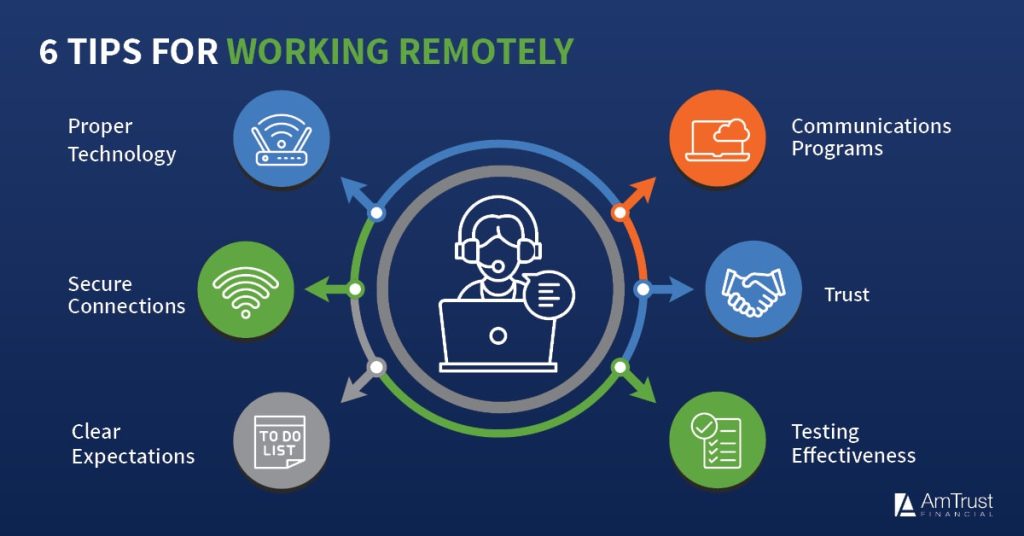 Technology remains the key to productivity
In addition to a conducive working environment and stable Internet connection, employers can provide employees with relevant, modern technologies that could ease communication between colleagues and streamlined work processes.
According to a report by App Annie, the usage of video-conferencing tools like Google Meet, Zoom & Skype has significantly soared as companies encourage employees to work from home.
Many applications that we use in our daily lives or outside work such as WhatsApp, Dropbox, and Gmail are examples of the tools that could be adopted. As we are already familiar with the tools, it could easily assist with our home working.
However, do note that some applications may not meet the security standards required for certain business-critical data. Therefore, to prevent staff from relying on these apps, companies should provide suitable technologies themselves to standardize and create a secure remote working environment. The technology necessary to work flexibly should be user-friendly, seamless operating, and highly secure. For this reason, Google's G Suite can be a great solution for any business when it comes to email hosting and providing an all-in-one solution for document collaboration and storage. It's extremely affordable for small and medium enterprises and easy for employees to use too.
Making WFH a company culture
Remote working is wonderful, but it's not without its challenges. The biggest fear of WFH that managers have is that employees might be slacking off and not being as productive as they should. In fact, this is actually an excellent opportunity for companies to demonstrate their trust to their fellow team members to do the right thing. After all, managers should not be expected to hang over their employees' shoulders to make sure that they work.
Nevertheless, leaders do have to spend some time on monitoring employees who might struggle with remote working at first. It is wise to set up regular sync-up calls where workflow and goals are discussed to set expectations and create accountability. Caring about how employees are feeling about being remote is important too, as the COVID condition is the first time for all of us, and isolation drawback is real.
On top of more frequent touch base calls, leaders should also conduct roundtable calls for team updates and workflow summary. It also gives them an opportunity to ask for and offer help. Be lavish with compliments and positive feedback. It's a great time to show appreciation to the team and acknowledge them, given the strange and difficult times now.
Finally, be sure to remind everyone that working from home doesn't mean working 24 hours. Be a role model and avoid sending out emails after work time or on weekends. It is best (and if the business nature allows) that the leaders respect their employees working at their preferred time. Everyone has their own productive work time – some of us grind in the morning, while others might focus better at night. Encourage the team to relax during their free time, develop new hobbies, and enjoy time with kids as they have more time at home. This strengthens trust, comfort, and the comradeship of employees.
Conclusion?
Now, even the big companies who have a rigid operating system took the step towards working remotely, we believe that the flexibility it introduces to the working class justifies that it should stay. However, will telecommuting be able to completely replace a brick-and-mortar work environment? It is still debatable.
Regardless, reverting back to normal working conditions will be a journey. In the meantime, let's start to rethink, reconnect, and reimagine the way we work to make the best of it.