QNAP Data Backup & Protection for Google Workspace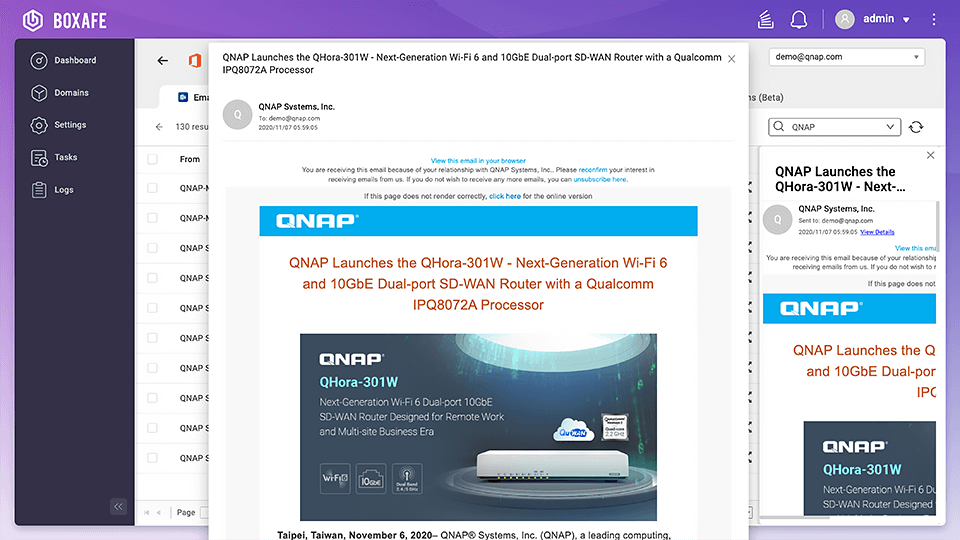 Safeguards Enterprise Cloud Data
• Backup cloud data to a local QNAP NAS, which can easily safeguard your enterprise data.
• The highly secure private NAS prevents data from being viewed by third parties.
• Use Boxafe to backup and manage multiple Google™ Workspace and Microsoft 365® data.
• Schedule multi-version backup reduces risk of data loss.
Comprehensive backup for Google™ Workspace
Backup all your emails and attachments in Gmail
Backup all your file versions in Google Drive. Supports My Drive and Shared Drive
Back up your Docs, Sheets, and Slides and export them to Microsoft Office formats. When restoring docs, permissions are restored synchronously.
Backup all your contacts in Google Contacts
Backup all your events and attachments in Google Calendar
Easy management, fast recovery
Automatically back up new user account
Use Google Super Admin to back up all users and data in the Google ™ Workspace domain, and Boxafe will automatically add a backup task when a new employee joins or a new Shared Drive is created.
One-step backup with a User-friendly interface
Boxafe's clean and user-friendly interface shows protection status, data consumption, and a recent tasks report in calendar format.
Preview files for granular recovery
Preview all backup data before restoring to avoid selecting the wrong files. Granular recovery allows for a partial restoration (of selected data) instead of a full restoration.
Fast file search at your service
Boxafe supports attribute-based Advanced Search for you to easily find files based on their name, sender and other information.